Special Guest: BizzyBlog Author Tom Blumer!
Greetings Mockingbird Fans. It is I, Tom Blumer, publisher of
Bizzyblog
, one of the most voluminous blogs on the internet ever to cover the Second Congressional District Race, and arguably one of the most venomous. But most of all, my blog is completely unfunny in any way. At least not as funny as The Mockingbird. I don't even have hilarious pictures for the amusement of my readers. Witnesseth The Mockingbird's rendition of my own portrait: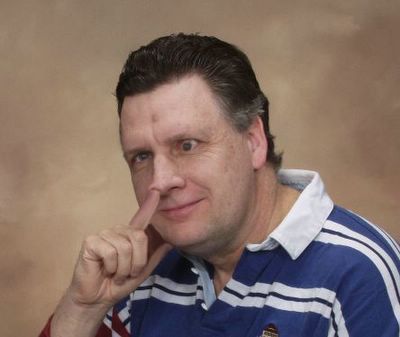 Nope. Instead of hilarious comedy and outrageous political parody, I have chosen to fill my blog with excruciating minutiae and trivial information, then mix it with poisonous bile guaranteed to put you in a very, very bad mood - that is, if you can get through more than a paragraph or two of my excruciating research before your forehead slams into the keyboard from sudden sleep syndrome. Are you napping, or do you have narcolepsy? Who can say for sure when you read Bizzy Blog?
I want to accomplish three things during my stint as "Guest Host" of the Mockingbird today:
1) Discuss my analysis of the 2006 GOP Primary Campaign
2) Discuss my venomous hatred of certain candidates in southwestern Ohio
3) Discuss why I'm typing this blog entry with one hand
So without further delay, I present my case:
My Take on the 2006 GOP Primary
First and foremost, Jean Schmidt is going to get challenged. That much everyone knows already. The question is, who will it be?
Threat = Tom Brinkman
I mentioned yesterday in my boring blog that that I felt Tom Brinkman could have beaten Paul Hackett. Why? I don't really know. I just said that because I had already typed up sixteen pages of snooze-worthy blog material and I was growing weary after another 14-hour computer marathon in front of the keyboard I love like a wife. Truthfully, Brinkman has more appeal than Schmidt, and his message, if not his delivery, resonates with folks across the district. But will he risk his current office to challenge Jean? Only if McEwen decides to let Jean pass GO and collect $200. Which brings me to...
Threat = Bob McEwen
It's no secret that I hate Bob McEwen with a passion. Why? I don't know. I just do. Perhaps it's because I hate anyone that the liberals could cast as a "Jesus Freak." I took Bob to task during the primary, criticizing him for everything from trying to earn a living all the way down to the fact that his socks didn't match during one of the debates.
Speaking of earning a living, I can't stand the fact that somebody could actually be so good at something that he could charge people ten thousand bucks a pop just to talk to them. So I was really scared I would get a bill when Bob actually contacted me during the campaign to answer some of my charges against him. But even though he responded to my direct challenge, I still chose to criticize him because:
1) McEwen actually made MONEY over the past 12 years! OH MY! THIS IS A HEINOUS CRIME!!!
2) McEwen spoke to people from other countries! And he even tried to help them! HOLY CRAP! THIS GUY IS A SCUMBAG!
3) McEwen still has contacts in Washington D.C.! This is an outrage of the highest proportions. I will not stand for this sort of corruption.
So, while McEwen is certainly a threat to Jean, I am confident that voters in the district will listen to me when I tell them that McEwen = Hitler.
Threat Level = Eric Minamyer
Mr. Minamyer is by far the crowd favorite. Anyone crazy enough to air campaign commercials that look like al Qaeda hostage videos gets my vote. Why? Because Eric Minamyer is an Angry White Male. Just like me. He even cursed and swore during the debates, and I admire that in a politician - which is why I think Eric and Jean get along so well. Will he run against Mean Jean? I hope not. Because even though I'm a guy who supposedly knows a lot about business (according to my boring blog), I just don't believe in competition. I think we should just settle for a candidate who sucks so badly that she almost LOST the safest GOP district in the country. Yes, and just to poo-poo any idea that I have any business acumen at all, I say we as Republicans should treat Jean Schmidt just like we treated bankrupt and hopelessly doomed United Airlines - by subsidizing the Jean Schmidt campaign and helping her limp through the 2006 general election against a man who will likely have the entire liberal country behind him come next fall. No, we shouldn't try and find the "best" candidate, we should just prop up a lame one - that's what conservativism is all about, right? Huh? Oh shutup.
Why Am I Typing With Just One Hand?
Well this one is easy to explain. I was so busy over the past 48 hours patting myself on the back for putting Jean Schmidt in office that I injured my left arm, forcing me to do everything right-handed - from typing 18 hours a day to picking my nose and even "me time" when I'm alone, I've been forced to be a one-armed bandit since late last night.
So there you have it. Thanks again to the Mockingbird for the additional exposure, even though it's unlikely that anyone will actually read more than three sentences of my boring web site, every little bit helps my ego (which is very large). After all, it take a giant ego to believe that anyone would want to read the mounds of bile I manage to spew out every day.
So long, folks. Thanks for staying awake this long.
___________________________
Editors note: The opinions expressed by Tom Blumer are not necessarily those of The Mockingbird. The Mockingbird is not responsible for any sleep inducement or narcoleptic disorders that may result from attempting to read Bizzyblog. The Mockingbird understands that Bizzyblog will likely attempt to rip me a new one because Bizzyblog doesn't understand the concept of humor or parody. The Mockingbird thinks Bizzyblog has a corn-cob up his butt and should remove it at once.